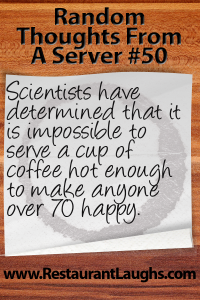 This note was jotted down after a particularly fun coffee adventure. Â I personally prefer my coffee slightly above body temperature. Â I drink coffee for caffeine. Â If it is too hot, then I must wait to drink it. Â This is a horrible tease and one that stretches the limits of my patience. Â This is the strongest evidence I have that I am not as old as I feel after working a Saturday double shift.
The theory I have developed is that after 60, the proper temperature you would like your coffee served at is 3 times your age. Â At 60 this is somewhat reasonable. Â By 71, it is impossible by the laws of physics. Â Here is the story:
An older guest asked for coffee. Â It was just finishing brewing when I poured it and ran it directly to the table. Â She called me back 30 seconds later and said it was "lukewarm." Â I went to the back, preheated the coffee cup with hot water, poured the coffee again from the insulated container, and brought it back. Â This time I had to hold the coffee by the handle because the cup was too hot. Â Again, she said it was not warm enough. Â She asked me to put it in the microwave for her. Â I did, but I also got a thermometer from the chef. Â  Â They aren't completely accurate when they are that close to maxing out, but it was well over 200 degrees. Â I brought it back and warned her it was hot. Â She took a sip, looked up, and said, "This will do."
Next time, maybe she should just order coffee flavored steam.