You are here:
Home
>
Pictures and Videos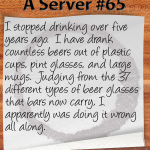 For all our bartender friends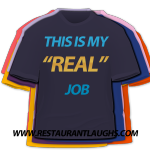 Want to share this one with the world? Â It's okay. Â I don't mind.
I love waiting on people who think restaurant reality shows reflect reality.
Although maybe they will now understand that when their girlfriend says to dress up for dinner, it doesn't mean the fancy Affliction t-shirt.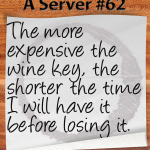 A moment of silence for all the wine keys that have moved on to the land of lost socks, lighters, and pens.
Search by Topic
About The Author
David Hayden was born and raised in Kansas City, Missouri. He took his first serving job in 1996. Since that time, he has worked for over a dozen different restaurant companies. He has held both hourly and salaried positions at independent and corporate restaurants. He has waited on over 100,000 guests and trained hundreds of servers. He has been named "Best Server in Kansas City" the last three years by the local weekly paper.