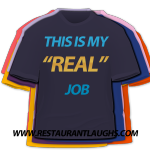 Want to share this one with the world? Â It's okay. Â I don't mind.
And now for something a little different
I have one significant flaw as a server. Â Well there is more than one, but one that is the standout among the flaws. Â I have no ability to hide an emotion on my face. Â Sure I can pretend to be happy if I am having a bad day, but in the instant you say something […]
Everyone has had one of those weeks. Â No one is coming in the restaurant, the entire staff is hurting for cash, and the manager cannot even find a volunteer for taking a Saturday night off. Â This is even worse when the slow week is the last night of the month and rent is coming due. […]
Want humorous pictures about serving in your Facebook newsfeed? Â Of course you do. Â The best way to do that is to check out the Restaurant Laughs Facebook Page and like it. Â There are lots of fun graphics to share with your friends. Â They range anywhere from moderately amusing to F'n hilarious. Â So go check it […]
Search by Topic
About The Author
David Hayden was born and raised in Kansas City, Missouri. He took his first serving job in 1996. Since that time, he has worked for over a dozen different restaurant companies. He has held both hourly and salaried positions at independent and corporate restaurants. He has waited on over 100,000 guests and trained hundreds of servers. He has been named "Best Server in Kansas City" the last three years by the local weekly paper.